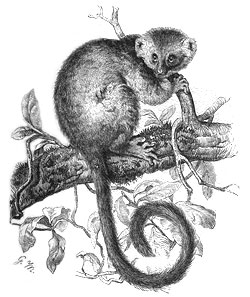 Many thanks to the kind folks at the Duke Lemur Center (formerly the Duke University Primate Center – DUPC) in Durham, North Carolina, who have allowed the use of their lemur photographs on this site. The Lemur Center is home to over 225 prosimians including ring-tailed lemurs, sifakhs, aye ayes, black and brown lemurs, mouse lemurs, dwarf lemurs, crowned lemurs, lorises, pottos, galagos (bush babies), red-bellied lemurs, and ruffed lemurs.

The Lemur Center performs observational (non-invasive) research focusing on prosimian biology, conservation needs and primate evolution.

For more information about Duke's lemur photos, contact:
David Haring
Duke Lemur Center
3705 Erwin Road
Durham, NC 27705
919-489-3364
dharing@duke.edu
Black and white lemur illustrations are from The Royal Natural History, edited by Richard Lydekker, 1894.